A Jolly Holiday With Angel Wing Jasmine
Hmmm. Have I said how much Charter Communications SUCKS!?!?
Every friggin' night, we've got like an hour of online time if we're lucky. They'd better get their act together or I'm gonna kill their self-esteems by spitting on their dogs' feeding dishes.
Anyway, this past weekend, if you remember, was all about Angel Wing Jasmine. We first went to dinner at California Pizza Kitchen on Friday where we exchanged gifts! She got me some cool (and expensive) clothes and cologne (and some sexy stickers). I got her a ton of Chibamaru stuff. It's this cute dog from Sanrio (which is completely embarrassing to shop at).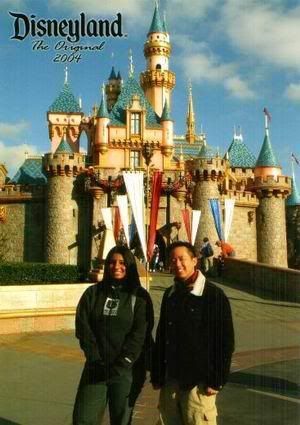 Then it was two days of Disneyland. The first day was crowded. We happened to pick the weekend of Candlelight to go. It was raining pretty lightly, so that helped thin out the crowds and we basically did everything. By the end of the night, my feet were dead and I was pretty exhausted.
Then on Sunday, I had to make it back in the morning. By this time, I had my fill of Disney. I really didn't want to be back at the park. It was felt like working there again. Basically, since the weekend was so ambitious, and Disneyland doesn't feel like a fun place anymore (after years and years of going), I felt like I hadn't had a break in my work week. With my normal 9 to 5 job, I only have the weekend to relax and I didn't feel got that. But I was there for Angel Wingy and it was really fun and nice to hang out with her.
So after being a grumpy ass on Sunday morning, it turned out really well. We went to a character breakfast at the Plaza Inn. It was a buffet with REALLY GOOD FOOD and tons of characters to bug you while you chow down. Then we finished up the park and repeated some stuff in the rain.
That night, I played
Metal Gear Solid 3
and beat it and let me tell you, it was freakin' spectacular!!! The story was so awesome. It was like thumbs up movie material. The ending is one of the greatest endings of any story I've ever seen/heard. It's one of those endings that turns the entire story on its head and makes you think. And it actually got me all misty eyed and I may have shed a tear or two. I'm aching for
Metal Gear
everything again. I want some action figures and posters and anything. I want to be Snake!
And lastly, weeks ago, I received word that my cell phone battery was being recalled. Apparently the batteries are counterfeit and could pose a health risk. I requested a new battery, but they haven't gotten back to me yet. Now, the other day, I got wind that my Oral B electric toothbrush is being recalled. Apparently if I bite down on my toothbrush, the head is detached and could get lodged in the throat and ingested. What's wrong with this world?
Oh by the way, work has gotten 20 times harder. Pray for me.
Relaxing!
Ricky
_________________________________________________________________________