"Work and Play Are Never Okay to Mix the Way You Do" - Jimmy Eat World
Vacation's over. Back to reality. Oh, there goes gravity. Defying gravity.
Wicked
. I miss New York!
Sure, with all the snow and weather problems and rudish people, one would wonder why anyone would want to live in New York. I, on the other hand, really love the city life. I like the quick pace of the rush rushiness. I like being able to take the subway virtually anywhere. I love the fact that everyone is out on the street walking places! I think I'm ready to live in New York...
Well, that's not going to happen in the next year or so because I've been extended at my job for another year! Yeah, not just one month, or two months, or three months, or four months, or five months, or six months, or seven months, or eight months, or nine months, or ten months, or eleven months, or twelve months, but one whole
year
! How sweet it is to have some sort of job security. In addition, I got a very tiny raise. One buck more an hour! Yes!
So, a pointless happy buy has been a long time coming. I'm thinking of getting a Nintendo DS. I was kind of interested in it when it first came out, but I wasn't so sure about the game selection. There are some new games coming out and free Wi-Fi connectivity that have pushed me to buy one just for the hell of it. You know? Just because I'm that kind of gimmicky gadget buying guy.
And yesterday, I took Lind-z and her friend to Disneyland for the night. And to keep me company, Cat volunteered to be my ride buddy, but flaked out to invite some friends of her own over. So I ended up hanging out with Rionheart. We did pretty well for only 4 hours in the park. We rode California Screamin' (where we almost sat on a giant loogey and Rionheart added to the saliva count), Matterhorn, and the yet-to-open Buzz Lightyear Astro Blasters (twice)!
Riders use laser guns to help Buzz Lightyear defeat Emperor Zurg. As you go through the ride, you shoot at many targets that hold different point values. At the end of the ride, you are ranked by the number of points you have. I believe both times, I ended up as a Space Cadet.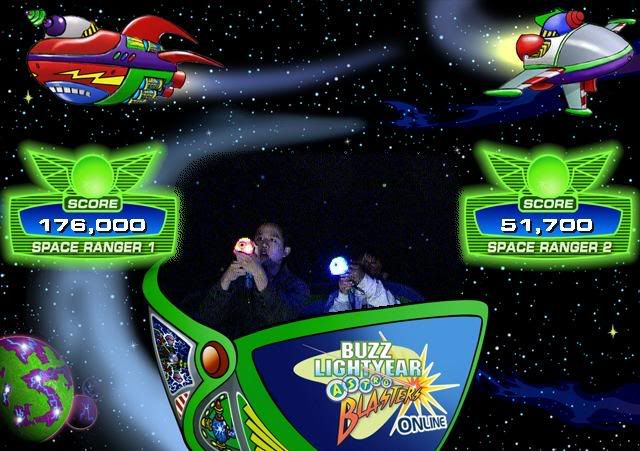 Too bad I'm still working. Disneyland is supposedly going to remain open for a straight 50 hours starting May 5th to kick off the 50th anniversary celebration. Oh well, you know what they say:
Work and play don't mix
... Or is it,
all work and no play makes
... Damn. What was it? Screw it. It's the weekend and I'm not supposed to be
thinking
.
Toasting to the good times, good lives,
Gimmicky
_________________________________________________________________________