Dancing For Pennies in the Street
For those of you who don't know, I am now a fully exempt employee at my company. At the end of the month, I will be taking over Co-worker Mike's job as he goes off to earn his MBA. My new position is Competitive Analyst and with that new title, I will also be getting benefits, vacation time, and a bump in salary (actually, it'll be a true salary!).
Right now, I don't really know exactly what I'll be doing. I know I'll be tackling some market research for the company, but there are other little tasks that I will be inheriting, such as writing product descriptions.
It's an exciting time right now for me because this job can open up some additional opportunities. For starters, I am going to have to take the Series 6 exam. A Series 7 would qualify me for bigger careers. I'm also considering getting my MBA. The company will reimburse me for some of the school fees. And, well, you know, all this scares me.
I just really hope I don't let anyone down if this job is too much for me to chew. I know that my new manager is very fond of Co-worker Mike (he's also much loved by the entire company), so I have entirely too big of shoes to fill. But I will do my best, naturally.
Moving to older news, many of you already know that Granny K took a terrifying fall last Sunday night. She tripped and hit her head on the tile floor. Thankfully she's alright (after a all-night check up at the emergency room).
And lastly, summer is approaching and you know what
that
means! Well, nothing terribly exciting. I just got my hair cut short again.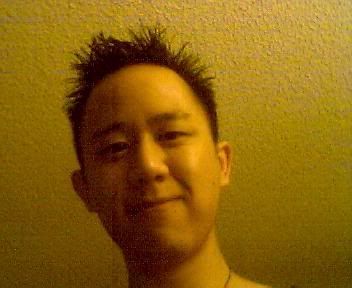 I'm not sure if I like it. I was getting really sick of my long hair and always slicking it back each morning, but now it looks like every other asian guy's hair. I guess I should expect to be called "Dang" again this summer.
Workin' the combover,
Ricky
_________________________________________________________________________